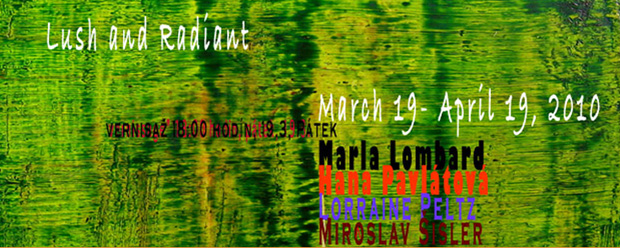 March 19th – April 19th, 2010
Opening: Friday, March 19th, 18:00
Ms. Lombard [ http://www.marlalombard.com ] of California, and three other artists open the new season at Califia this spring with rich layering of color, reflecting the very special light of the artist's interior field. Filled with near mystic referencing, these abstract paintings of Lombard's bring a "burst of radiance", as the L.A. art critic James Scarborough says about her work. Lorraine Peltz [ http://lorrainepeltz.com ], based in Chicago, offers a contrast to Lombard's visionary radiance, with a down and funky aesthetic of playful femininity and wild color. Rich and clever, Peltz's canvases question stereotypes of women's sensibilities and histories. Hana Pavlátová, a true Czech visionary artist, displays new canvases filled with ancient meaning, making "real" from the long ago unreal world deep within the subconscience of each of us. Miroslav šisler's large canvases bring the magical realm of our local pošumava landscape and mystery into two dimensions.
The Czech poet Ivan "Magor" Jirous had this to say about šisler's paintings: "One piece of evidence that the world has been created predominantly for beauty is the fish living in the deep sea where there is no light, but they are nevertheless clad in radiant colors."
This sense of "underwater" beauty can be found in each of the artists' works in "Lush and Radiant".
Guest Artists: Mrs. Miller's 5th Grade Class of Westlake School, Santa Cruz, California
Invitation Card: Lush and Radiant
Opening